How 16 famous women from the «Golden Age of Hollywood» would look today…
The Golden Age of Hollywood was a time when a number of women ruled the world of American cinema, including Audrey Hepburn, Marilyn Monroe, Ava Gardner, Grace Kelly, and many others. They have had the most successful careers in Hollywood because of their incredible talent and captivating beauty, which has earned them worldwide acclaim.
Fashion and beauty trends have shifted several times over many decades. The breathtaking beauty of these legendary women, on the other hand, helps to explain how the term «The Golden Age of Hollywood» came to be.
And it's fascinating to imagine how iconic Hollywood beauties would look if they were still active in the industry today. As a result of advancements in AI technology, we can easily imagine how amazing they are in the modern look. The following is a list of 16 iconic women and their imagined lives if they were at the peak of their popularity today. Let's have some fun by scrolling down!
#1. Katharine Hepburn (1907- 2003)

Katharine Hepburn rose to prominence in Hollywood in the 1930s. She set a record by winning four Academy Awards during her 60-year acting career.
#2. Grace Kelly (1929-1982)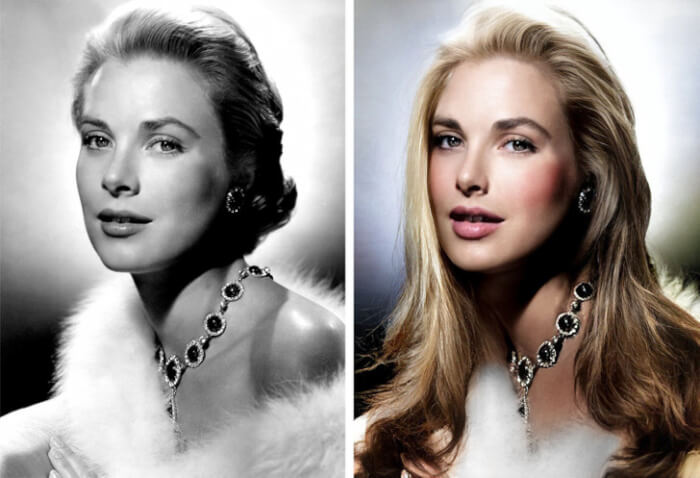 Grace Kelly rose to fame as the leading lady in High Noon. She also appeared in a number of films, including «Dial M for Murder,» «The Country Girl,» «Rear Window,» and «To Catch a Thief.»
#3. Shirley Temple (1928–2014)
Shirley Temple was the most well-known child performer. She received a special Academy Award for her work in films such as «Bright Eyes,» «Heidi,» and «Little Miss Marker.»
#4. Ava Gardner (1922–1990)
With her alluring blue eyes, Ava Gardner is often considered as one of the most attractive actresses in the history of the movie industry. She is best known for her roles in the films "The Killers," "The Hucksters," "Show Boat," and "The Snows of Kilimanjaro."
#5. Rita Hayworth (1918–1987)
The role of Gilda, which Rita Hayworth played in the film directed by Charles Vidor, is what made her famous. Furthermore, she is well-known for her stunning and explosive sexual charisma on film in the 1930s and 1940s.
#6. Marilyn Monroe (1926–1962)
It is well known that Marilyn Monroe overcame a difficult childhood to become one of Hollywood's most successful stars. She was only 36 years old when she died tragically.
#7. Ingrid Bergman (1915–1982)
Ingrid Bergman, the internationally famous Swedish actress, played the lead role in the timeless «Casablanca.» She received seven Academy Award nominations, winning for Murder on the Orient Express, Anastasia, and Gaslight.
#8. Audrey Hepburn (1929–1993)
Actress, fashionista, and philanthropist Audrey Hepburn co-starred with Gregory Peck in the 1953 movie "Roman Holiday." She then redefined fashion as Holly Golightly in Breakfast at Tiffany's, setting new standards. Few actresses have received an Emmy, Tony, Grammy, and an Oscar. Hepburn is one of them.
#9. Elizabeth Taylor (1932–2011)
Many films starred Elizabeth Taylor, including «Cat on a Hot Tin Roof,» «Butterfield 8,» «National Velvet,» and «Who's Afraid of Virginia Woolf?» Her violet eyes and scandalous love life helped to make her famous.
#10. Greta Garbo (1905–1990)
Greta Garbo is best known for her work in silent and talking films prior to World War II. The 1922 farce «Peter the Tramp» was the film that launched her into a brilliant acting career.
#11. Judy Garland (1922–1969)
Judy Garland played the female lead in a number of musical films, including «The Wizard of Oz.» Throughout her career, Garland worked as both an actress and a singer. She is well-known for both her incredible talent and the difficulties she has faced throughout her life.
#12. Vivien Leigh (1913–1967)
The actress who played Scarlett O'Hara in «Gone with the Wind» attended a convent school in England. Maureen O'Sullivan, a friend, encouraged her to pursue a career as an actress. Vivien Leigh appeared in films such as «The Bash,» «Things Are Looking Up,» and, of course, «Gone with the Wind,» for which she received an Academy Award.
#13. Natalie Wood (1938 – 1981)
When she was 16 years old, Natalie Wood co-starred with James Dean in "Rebel Without a Cause." After that, she made a number of successful movies, such as "West Side Story," "Splendor in the Grass," and "Brainstorm."
#14. Olivia de Havilland (1916–2020)
Olivia de Havilland is best known for playing Melanie in the film «Gone with the Wind.» She also received two Academy Awards for her outstanding performances in the films «To Each His Own» and «The Heiress.»
#15. Veronica Lake (1922- 1973)
Veronica Lake, like Aland Ladd, is best known for playing femme fatales in noir films. Her career began to suffer as a result of her excessive drinking. «Sullivan's Travels,» «I Married a Witch,» and «Flesh Feast» were her best films.
#16. Sophia Loren (1934–)
People were blown away by Sophia Loren's stunning beauty, and she won an Academy Award for her acting. She was always listed as one of the most beautiful women of all time. Loren is 88 years old right now.